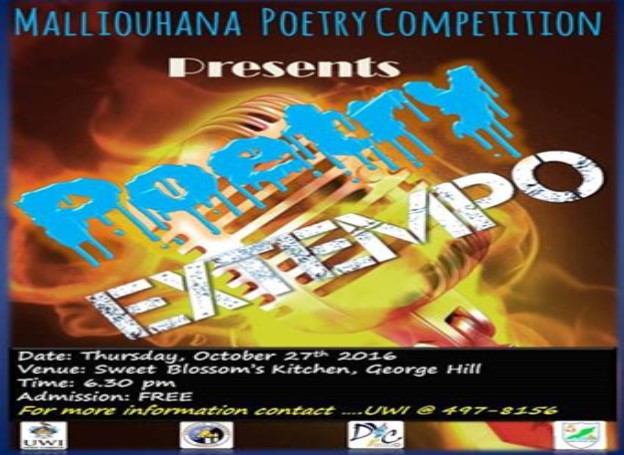 Malliouhana Poetry Competition Committee Presents Evening of Poetry Extempo
As a prelude to the 2017 Competition, the Malliouhana Poetry Competition Committee is hosting a Poetry Extempo Evening dubbed "The Word in Any Form". The free, fun-filled session will take place on Thursday, 27 October 2016 at 6:30 p.m. at Sweet Blossom's Kitchen on the George Hill.
Road. Poets, rap artistes, calypsonians and other performers are invited to participate in the friendly impromptu competition. Using the extempore format, participants will be granted five minutes to create their presentations using catchy, current topics provided by the organisers and a maximum of two minutes for performance. The evening promises to be an exciting one complete with fun prizes and surprises.
Organised by the University of the West Indies Open Campus Anguilla in collaboration with the Anguilla Library Service, the Department of Youth and Culture and the Anguilla Community College, the Malliouhana Poetry Competition seeks to encourage literacy and artistic expression, as well as to promote an ethos of social, cultural, and political awareness. The Extempo Evening is expected to help jumpstart creative writing juices in preparation for the 2017 Competition, scheduled for 3 May 2017.
Persons desiring more information are invited to call the UWI Open Campus at 497-8156 or the Anguilla Library Service at 497-2441.
Written By: ALS
2016-10-13 00:00:00